Bhardwaj Lake
Bhardwaj Lake, Asola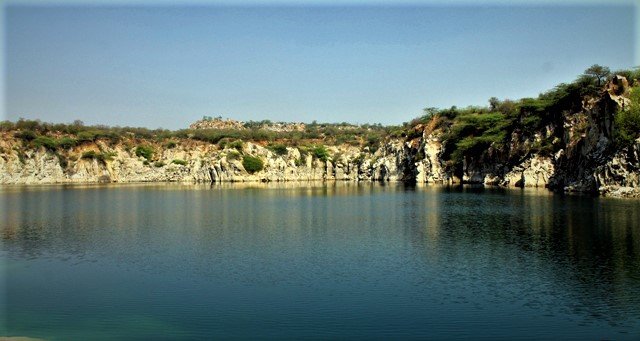 Bharadwaj Lake Asola, situated in the middle of the Aravalli mountain range, is a great option for trekking near Faridabad situated in the Asola Wildlife Sanctuary in South Delhi. Come spend a special weekend holiday. The entire region traverses semi-arid forests with some of the most adventurous and scenic trails. However, some time ago this lake was not very popular among visitors and trekkers. But now it has become a popular place where some narrow and forested roads lead to the blue lake.
Bhardwaj Lake was formed as a result of the uncontrolled mining of sandstone, lime, and Badarpur sand. A few decades ago, all the present lakes around here including Coral Lake, CITM Lake 2, Dolphin Lake, and the entire area of ​​Death Valley used to be in the form of large open-pit mines. But due to mining, the whole area turned into a pool of large pits. It is usually now the rainwater that collects during the rainy season. This is how Bharadwaj Lake and other lakes were formed.
Bhardwaj Lake
Bharadwaj Lake is located on the Delhi-Haryana border near Faridabad. In this area, visitors can see many flora, birds, butterflies, rabbits, deer, and nilgai apart from rocks, pebbles, and gravel of Aravalli Hill. Apart from this, local people say that wild animals also live in this area, although they are rarely seen. Bharadwaj Lake Asola is spread over an area of ​​about 8 km.
How to Reach Bhardwaj Lake Asola
This lake is a picnic spot, where people go trekking. Nearby is the Asola Wildlife Sanctuary. If you are also planning a trip here to spend your one-day holiday, then it is very important for you to know, how to reach Bharadwaj Lake Asola?
The nearest metro station to Bharadwaj Lake is Badarpur Border Violet Line. From here the distance of Lake and Asola Wildlife Sanctuary is 12 kilometers. After coming to the metro station, you can go to the lake by cab or auto-rickshaw.
While you are planning to visit Bhardwaj Lake, make Camp Wild Dhauj your base camp, which is a great adventure campsite with a luxury of amenities. From here the distance of Camp Wild is 22 km. You can easily reach the camp by taking a 45 minutes drive.